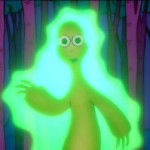 This morning I had a followup eye exam; instead of being pushed, one of the nurses walked me to the other ward (same floor), which was a nice chance for a little further exercise.  The eye doctor said they're healing well, and that she definitely sees improvements over last week.  Hours later I still hase massively dialated pupils, reminding us of the Simpsons episode with Mr Burns looking stoned.  I'm tying this with still-blurry vision, but I can see it *just* enough to say most of the words intended.
As a change, this time I wore a face mask over my mouth and nose down to the eye doctor.  (Apparently I really should be wearing these any time I go off the ward for other stuff.)  It wasn't the most pleasant experience; breathing in got nice clean air, but then exhaling filled the mask with warm air.  Since it took a while to do the examination—after dialation drops, had to wait a full half hour to have them really do their job, apparently—I ended up going for about an hour and a half with the mask.  It made my tummy a little upset; not serious nausea, but enough to make it unpleasant.
Hearing that the eyes are healing was really gratifying, but it didn't take away from the satisfaction when I was able to go back to my room (this time they had a porter come to offer to walk with me, but I was totally fine being pushed).  As soon as I got back to my bed, off came the mask, and I lay down and rested for a little while, probably doing a bit of a nap: the whole experience took a lot more energy out of me that I'd expected, in contrast to the energy level I've felt for the last few days.  Knowing I feel better now, I think my initial experience with wearing a mask, and having it be for so long, really took it out of me.
Warrior Needs Food Badly
Relatively late in the afternoon, I managed to eat my lunch (actually really good, on contrast to most hospital food).  Lots of apple juice helped, too.  That was a bit past 2; ironically, dinner at around 4:30-4:45 means I'm probably not going to be particularly hungry for dinner ("tea", the "dinner" comes at 12:30pm, Ireland is confusing sometimes, even if you've lived here for more than ten years).  I managed to eat my full dinner (tea) too, implying my appetite was still there.  Since this hunger for dinner was a bit of a surprise, I'm noting that I've still got two great oranges which E brougcht in from the Punnet in Glasthule.  Even out of season, their fruit & veggies are spectacular.
Numb3rs Still Holding

The white cell count numbers haven't gone up yet.  It's no big deal; after another day or two, if they're not doing it, the doctors will use the growth stimulation (mentioned a few days ago) to encourage while cell development.  They're confident with either approach; we're just looking for how the numbers play out tomorrow and probably Wednesday.
On the plus side, my red cell count is staying at a good level.  This means the cells are humming along, and that any small discrepancies are, according to the doctor, being replenished even a little bit.
No more blurry typing. 🙂  The nurses say I still look stoned.
Comments Off

on Mr Burns Visits the Hospital